Top 5 Reasons Willow Brook Lodge Offers the Best Accommodations in Pigeon Forge TN
If you're looking for the best accommodations in Pigeon Forge TN, then you've come to the right place! At Willow Brook Lodge, our goal is to make sure our guests have an enjoyable stay in Pigeon Forge. When you stay at our accommodations, you're guaranteed a vacation full of memories at an affordable price! Here are the top 5 reasons why our hotel offers the best accommodations in Pigeon Forge TN:
1. Variety of Rooms
We have a variety of rooms available at Willow Brook Lodge to fit whatever type of room your family needs. We have rooms that are perfect for romantic getaways and spacious suites that are wonderful for family vacations! When you stay in one of our deluxe guest rooms, you'll get to enjoy a HD flat screen TV, microwave, refrigerator, coffee maker, free wireless internet and more. If you're traveling with a family or group, you'll love our family suites with different sleeping areas! Our different suites have a variety of amenities you can choose from, like fireplaces, jacuzzi tubs, balconies, handicap accessible bathrooms, and all the necessities for a comfortable stay. You'll have no problem getting a good night's rest in any of our amazing room types!
2. Free Breakfast
Start each morning at our Morning Star Cafe's free deluxe continental breakfast. You will be able to fill up on a variety of delicious items such as fresh Krispy Kreme Donuts, Biscuits & Gravy, and Pancakes! And that is just to name a few items we offer. Whether you are heading to the thrill rides at Dollywood or hiking trails in the Great Smoky Mountains National Park, our breakfast will help provide all the energy you need. As a bonus, our free breakfast makes your trip more affordable as it saves money and time from dining and waiting at restaurants!
3. Outdoor Pool & Indoor Pool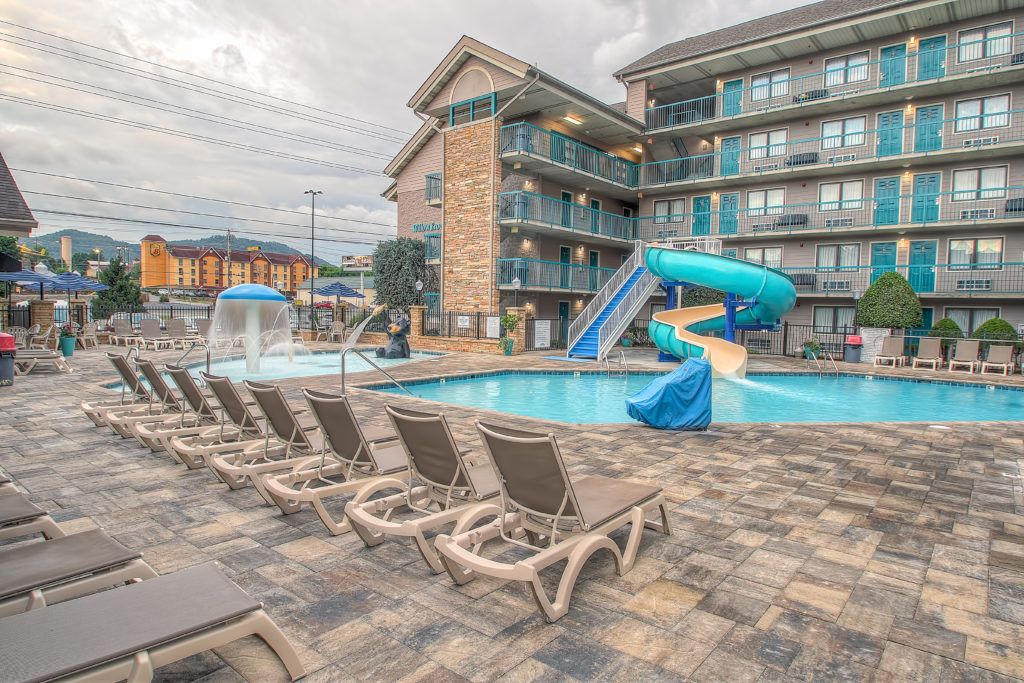 We don't just have one pool — we have two! With both an indoor and an outdoor pool, you can swim regardless of the weather! During the summer months, take advantage of our heated outdoor pool and splash around as you soak up the sweet sunshine on our newly renovated outdoor pool deck. We have our very own 75 foot waterslide that kids absolutely love! We even added new fountains and extended our kiddie pool for the younger kids to play in and have a great time too! If it's raining or too cold to swim outside, head inside to our heated indoor pool located alongside the Pigeon River. And if you are feeling a little tense, check out our hot tub at each pool area and just take it easy. There is plenty of seating around both pool areas as well. Nothing can stop you from having fun in the water when you stay at our Pigeon Forge hotel.
4. Excellent In-Room Amenities
While relaxing in our comfortable hotel rooms, guests can take advantage of a variety of excellent in-room amenities! Every room features a refrigerator and microwave. If you happen to be a coffee drinker, you can brew up a cup of coffee right in the comfort of your room with the in-room coffee maker. Our rooms also include a hairdryer, iron and ironing board, clean soft linens, and so much more! If you you want to make your vacation extra special, stay in one of our deluxe suites that includes a Jacuzzi, Fireplace, and Private Balcony!
5. Great Location
You will love the central location of our hotel. We're located right on the Parkway, which means you're just steps away from all the action and fun things to do! You'll be within walking distance to popular things to do like go-kart racing and mini golf, and you'll be close to Dollywood and The Island in Pigeon Forge! When you stay just minutes from all the fun, you'll be able to make the most of your time in Pigeon Forge and create unforgettable memories. We are also one of the closest hotels to the LeConte Convention Center. The Leconte Center is just a five minute walk for any conference or event event that you might be attending, which is so convenient! We are also a perfect location for any teams playing at the Cal Ripken Experience as well! It is just a two minute drive, and you don't even have to get in traffic to get to the fields.
These are just some of the many reasons Willow Brook Lodge offers the best accommodations in Pigeon Forge TN. Browse all our Pigeon Forge hotel rooms and see for yourself what makes our hotel special. We can't wait to see you!
Come As Our Guest. Leave As Our Family.